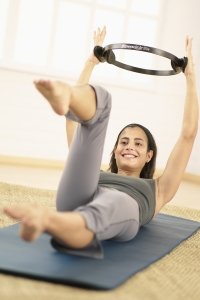 Workshops
Workshops are an excellent way to increase your knowledge, challenge your clients, and improve your teaching skills. Workshop topics can range from rehabilitation to athletic conditioning with various pieces of equipment and props. The STOTT PILATES® workshops count toward the continuing education program by providing continuing education credits (CEC's) toward certification.
Total BarreTM workshops may also be applied toward your CEC's. High-energy and dynamic, Total Barre™ integrates elements of Pilates, dance, cardio & strength training, and is fully expandable and adaptable to any client base.
Students are required to earn 0.6 STOTT PILATES® Continuing Education Credits each year to retain STOTT PILATES® Certification.
| Course | Course Fee | Materials | Total Cost |
| --- | --- | --- | --- |
| All STOTT PILATES® Workshops | $50 per hour | Included with course | $50 per hour |
| Total Barre™ Foundations | $320 | $70 | $390 |
| Total Barre™ Endurance Level 1 | $250 | Included with course | $250 |
A deposit of 20% is required to reserve your space in a course. Workshops must be paid for in full at time of registration. All deposits and course fees are non-refundable.
Course Materials may be purchased directly from Pilates Movement Studio for students registering at least four weeks prior to the course start date. Course materials must be paid for at the time of enrollment.
REFUND POLICY: All workshop payments are non-transferable and non-refundable.