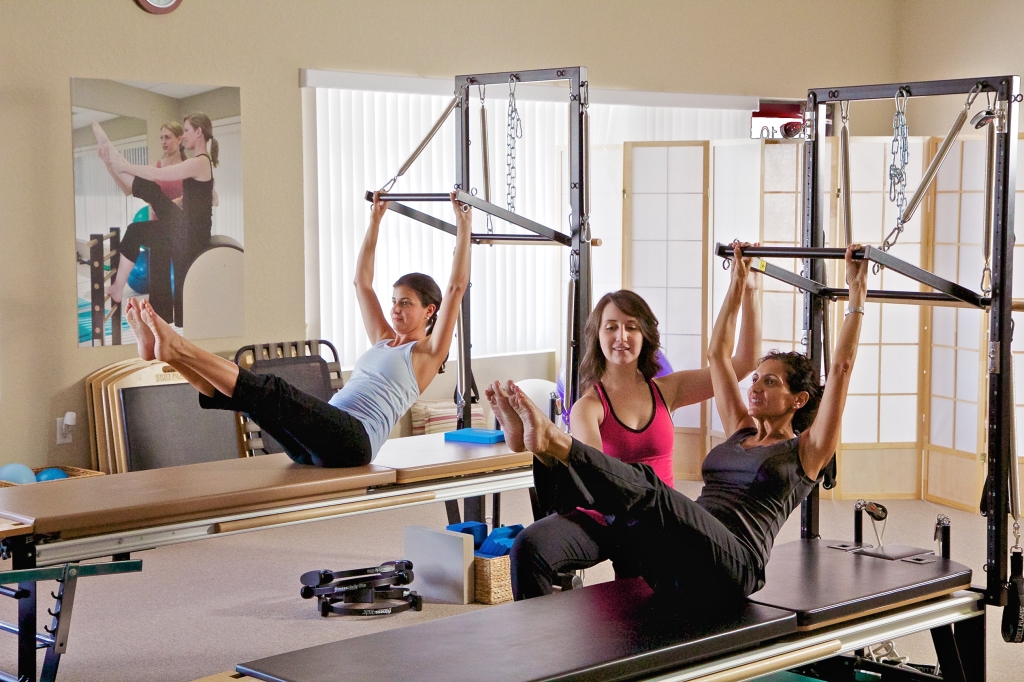 I began to take private Pilates sessions at Pilates Movement five years ago.  Sticking with exercise has always been a challenge.  I have found that Pilates has been the best program for me both mentally and physically.  I have a history of lumbar herniations, two back surgeries, facet joint ablation and numerous steroid injections.  Stephanie and Alyssa are meticulous in the individual sessions they plan for me.  Their knowledge of the anatomy and mechanics of the body is phenomenal.   When I miss an appointment I can feel it.  If I go into a session feeling tight or experiencing discomfort I am confident I will finish pain free!  Feeling strong and knowing that I am able to use my core strength to avoid pain is priceless.  I strongly recommend Stephanie, Alyssa and the rest of the highly trained instructors at Pilates Movement Studio.
– Amy Maxwell

Pilates is a powerful practice, so I wanted assurance that I was placing my body, mind, and spirit in intelligent and compassionate hands and that my time would be an investment in health and well-being. Stephanie Crank is professional and present with each client, so I feel safe and supported in her studio. After three years of working with her, I am much healthier and more comfortable in my body. I highly recommend Pilates Movement Studio, a welcoming and positive environment.
– Judy Copeland Ashcroft

Pilates is amazing. I don't have back problems anymore because my core muscles have been strengthened. I have lost inches in my waist, hips and stomach and my posture is better than it has ever been. I am more limber and have lots of bounce in my walk. Pilates is the most rewarding, satisfying thing that I have ever done for myself.
– Dianne Lowden
After having been involved in several car accidents, I was desperate to find something that would help relieve my constant pain. Pilates is the only method of treatment that has ever provided me with relief, and today I am living relatively pain free because of it. Alyssa is such a wonderful and patient teacher! She helps to challenge me and to keep me goal oriented and it has been really exciting to see my body change. Going to the studio is the highlight of my week and I look forward to working with Alyssa for many more years to come!
– Carla Houle
This year I finally made the decision to do something to tackle my weight and health issues. First I started going to the gym a few times a week, utilizing the stationary bikes and lifting weights. As I started to feel better, I wanted to add other activities to help balance my gym visits, build my core strength and add some excitement to my workout routine. I have always wanted to try Pilates but I'm not an "athletic person" and so it was a little daunting for me, but it really was the best decision I could have made.
I called the Pilates Movement Studio and spoke with Alyssa. During that first call she was very committed to learning about my health issues and to address any concerns that I may have in embarking on this exploration into Pilates.
Alyssa is a very, passionate, caring and supportive instructor that tailors each and every class to help build your strength, to help you learn about your body and push you past your fears to achieve more. She believes in you and eventually you believe in yourself! I feel that our working together has made such an important difference in my life and my future health.
I still have a way to go to get to the healthy weight and body that I really want, but I have been receiving comments on the changes that have happened over the last several months. I have lost weight, have better posture and have become more flexible. I now bike 10 – 15 miles every weekend, and I'm taking up kayaking. I may not still be an athlete, but I love to go out and have fun and play! I love the way Pilates has transformed my body!
– Susan Johnson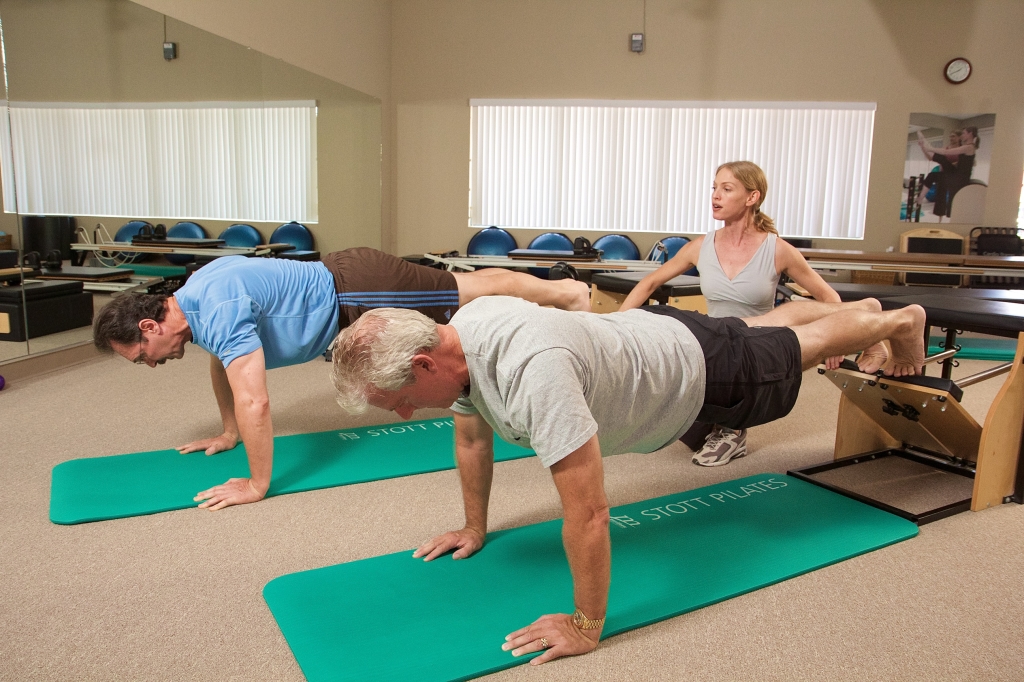 I have been taking Pilates from Stephanie Crank since May 2004 and I can honestly say that it hasn't gotten any easier! However, that is because as my core strength has increased, Stephanie has challenged me to continue to improve. When I think back to when I first started Pilates, I am amazed at what I was unable to do then that I can now accomplish. I have scoliosis and osteoporosis, the latter of which I am working to reverse through diet, exercise and medication. Stephanie tailors each session around these issues and is careful not to have me do movements that could compromise my health while still helping me to improve my flexibility, strength and overall muscular tone. Stephanie is calm but insistent, patient but exacting in her expectations. Taking Pilates from Stephanie is definitely the best thing I have ever done for myself.
– Janne B.
I had never taken a formal Pilates class and then, with permission from my doctor, decided to take pre-natal Pilates classes from the beginning of my pregnancy on. The movements and exercises that I have learned have been so beneficial to me. My energy levels have soared… Pilates has kept me toned, flexible, and overall, has strengthened my upper and lower body. I would highly recommend for any expectant mother to take Pilates under the guidance of a qualified instructor. It is amazing and you will see and feel the results!!
– Natasha P.
Pilates is the best investment I've ever made in myself…
Since starting Pilates, my chronic back pain has been much more manageable. The emphasis on movement that strengthens the core muscles supporting the spine has made a noticeable difference in my level of functioning, sense of well-being, and enjoyment of normal activities. I have been helped immensely by the instructors at Pilates Movement Studio.
Stephanie Crank truly has a gift for coaxing out the most from her clients. She understands and respects each individual's physical abilities and limitations equally. She is a consummate, caring and compassionate professional who gives her all to every client alike.
I highly recommend Pilates Movement Studio.
– Julie H.
Pilates with Stephanie Crank equals internal healing.
– Tony Gonzalez
Chairman of the Board
Bank of St. Petersburg
After several bouts of severe (in bed, unable to move) back pain, I decided to try Pilates. I had ceased doing many things I once enjoyed because I was afraid I would "throw my back out" and I would be in misery. Now I am enjoying those things again and am no longer afraid to live life. My core strength has increased along with my awareness of proper posture and body mechanics, and now I am comfortable doing anything that comes along. I began my Pilates training with Stephanie and recently have also taken classes with Kathleen. Both provide challenging workouts that leave me feeling relaxed, limber and refreshed. I wish I had known about Pilates much sooner and would recommend this program to anyone, young or old. Stephanie is a very dedicated instructor who demands the highest quality standards from herself, her instructors and her clients. Pilates Movement Studio provides a calm atmosphere where strengthening and healing take place.
– Susan C.
One of the best things we have done for ourselves is to take Pilates classes. We feel that Pilates has really enhanced our quality of life. Pilates has improved our posture, strength, muscle tone and eliminated aches and pains. Pilates Movement Studio offers exceptional instructors in a very professional atmosphere. We use a variety of equipment and always feel challenged. Pilates is a treasure we recommend to everyone.
– Steve and Judy Mitchell
I came to Pilates Movement Studio looking to improve my strength and balance. A serious injury several years before left me with constant pain, an abnormal gait, weakness on one side, and very low stamina – even after top notch physical therapy. I got from Pilates Movement Studio soooo much more than I anticipated. Stephanie and her staff have patiently, persistently identified and addressed the myriad of ways my posture, muscles, and even skeleton had become asymmetric and out of balance. I stand and walk straighter now. I am stronger and more fluid in my movements. Pain that was arising from tight but weak muscles (yes you can have both!) is improving. If my story sounds full of technical "doctor speak" it's because I am a physician, retired since my accident. My background gives me even more appreciation for the quality of training offered at Pilates Movement Studio. Still far from "normal" my continued improvement is so remarkable that virtually everyone who knows me has been compelled to ask "what the heck are you doing?" They think I've lost weight because my shape is so much nicer now. In truth, I haven't lost a pound but I've dropped several dress sizes. Most impressively my personal physician has been so struck by the changes in my form and function she asked for information about the studio for herself. I am very happy to recommend Pilates Movement Studio to all who are looking to improve their quality of life.
– Deborah S., MD