Experience the Amazing Benefits of Pilates

Pilates Movement Studio in Tampa will help you realize the many amazing benefits of Pilates. The Pilates body is strong, streamlined in appearance, and performs optimally in all situations. Workouts can be customized to suit everyone from post-rehabilitation patients to high-level athletes. With a major emphasis on properly aligning the body and joint stability, Pilates is also the perfect complement to all other types of exercise and sports training. This workout will show you results and keep you coming back for more!
Conveniently located in Carrollwood on North Dale Mabry Highway (just south of Fletcher across from Barnes & Noble), Pilates Movement Studio offers private, semi-private, and small group training in STOTT PILATES®, recognized and respected worldwide as the "gold standard" of pilates training.  We are also a proud hosting center for STOTT PILATES®, offering certification courses and continuing education workshops to budding and seasoned STOTT PILATES® instructors from all over Florida and neighboring areas.  
Are you ready to discover how a personalized Pilates program can help you to meet your fitness goals, improve your posture, and enhance performance in any sport?  Get started here or contact us today to request an appointment!   Pilates Movement Studio offers high quality pilates training, massage, and Total Barre™ classes in a peaceful and positive environment.
Some of the benefits of Pilates training include: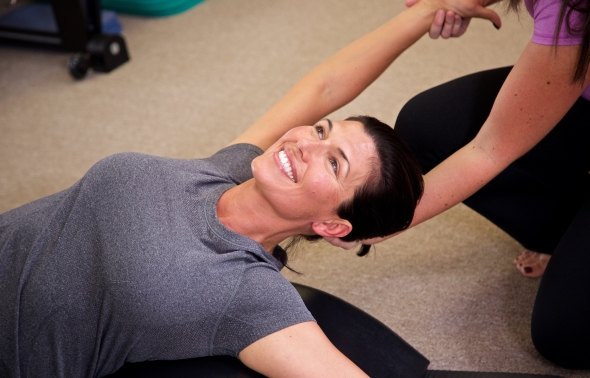 Heightens mind/body awareness

Enhances concentration

Reduces stress and muscular tension

Improves posture

Tones and elongates muscles in legs and arms

Develops deep abdominal and back strength

Lengthens tight muscles while strengthening weak muscles

Improves balance, stability, and agility

Reduces the risk of injury

Improves athletic performance
Frequently Asked Questions:
Q. How many times a week should I do Pilates?
A. Refreshingly, Pilates can be done daily. On average, 2-3 times a week is recommended for optimum results. Initially, a good place to start is 2 times a week for the first month or so. Some clients then choose a combination of private, semi-private and/or group classes when settling into a program that will suit their individual scheduling and financial needs. Even those who commit to just one session a week report long-term, life enhancing benefits. The important thing is that you begin!
Q. How do I get started?
A.  Specifically for new clients, we offer an Introductory Package of 3 Private Sessions. Within these first sessions clients learn the five basic principles of Pilates, gain experience on Pilates equipment and become familiar with some of the essential first layer of Pilates exercises. After these initial sessions, clients will have a clear idea of how they might like to proceed with their training (# of sessions per week…private vs. group), and the instructor will have had sufficient time to observe the client's work and offer advice.
Semi-private partners coming into the studio together may choose to start together immediately.
Beginners will not be allowed to join an existing group class before completing at least one private session and gaining instructor approval.
Q. What should I wear?
A.  Clients should be comfortable and able to move freely. Snug fitting clothing is advised around the torso and hip area so that instructors can better guide proper alignment. Men should wear supportive undergarments and clients choosing to work out in shorts should ensure that they are at least mid-thigh length. No shoes are worn during workouts but socks are permitted. Please refrain from wearing perfume or strong smelling lotions in consideration of clients with allergies.
Q. Will Pilates help me to lose weight?
A.  Pilates, though an incredibly effective exercise system, is not normally a cardiovascular activity and thus not a sole ingredient for weight loss. It is possible, after progressing in Pilates, to work at a slightly faster pace and to incorporate more cardiovascular exercises, like jogging on the jumpboard, to stimulate a more weight-loss oriented program. Most often, Pilates would be viewed as the "strength training" component of a total weight loss regime including proper diet, cardiovascular activity (i.e. walking, biking, swimming) and strength training for toning and turning fat into muscle. Pilates is renown for creating long, lean muscular tone, rather than for bulking and building excess muscle. Many of our clients report exciting and rewarding changes in their overall physique even when the scales remains unchanged. In other cases, merely committing to a regular Pilates practice motivates and inspires clients to begin to watch what they eat and be more active. Most are amazed at how wonderful Pilates can make them feel.
Q. How long before I see results?
A.  In almost every scenario, clients report feeling great even after the first session. Visual results will vary according to how many times a week Pilates is performed, dietary factors and any injuries or special considerations a client is dealing with. On average, expect to see and feel results within 6-8 weeks.
Q. Can I do Pilates if I'm pregnant?
A.  Pilates can be a wonderful way to maintain tone, relieve tension and build stamina for the child-birthing process. Several modifications are made as pregnancy progresses to ensure that mother and baby are safe. Private sessions with a qualified instructor are often the best route. Pregnant women who have never done Pilates before are not advised to start Pilates during pregnancy. However, Pilates is a phenomenal way to reconnect with and tone deep abdominals and pelvic floor muscles post-partum.
Q. I haven't exercised in years, and I have some old injuries... is Pilates right for me?
A.  Absolutely! Many use Pilates post-rehab because it offers movements that are precise and low impact on the joints. In addition, a good Pilates instructor (like those in our studio) has been trained carefully regarding what to do and not to do with many common injuries. One of the wonderful things about Pilates is that it can be tailored to nearly anyone at any age or fitness level.
Q. Is Pilates good for Osteoporosis?
A.  Clients suffering from loss of bone density, mild or extreme, can benefit greatly from a very specifically tailored Pilates program. Private instruction is a must due to the fact that many of the exercises in Pilates are not ideal and can even be detrimental to clients with osteoporosis. Others are highly beneficial and effective. We have had the good fortune of playing a role in assisting several clients with a reversal of osteoporosis through diet, medication (sometimes) and a safe, weight-bearing exercise program.
STOTT PILATES® Certification at Pilates Movement Studio
STOTT PILATES® is a contemporary approach to the original exercise method pioneered by the late Joseph Pilates. It incorporates modern exercise principles, and applies proven and accepted practices in biomechanics, rehabilitation and athletic performance enhancement.
Pilates Movement Studio is a beautiful, spacious studio fully equipped with state-of-the-art Merrithew Health & Fitness™ equipment. High ceilings, two walls flanked by mirrors, and large windows create a welcoming and focused working environment within which to learn and experience the STOTT PILATES® repertoire! We are proud to be a hosting center for Merrithew Health & Fitness, bringing high-quality, cutting-edge instructor training to the Tampa Bay Area.
For more detailed information, regarding STOTT PILATES® Instructor Certification click the button below.